Bar Code Tagging Services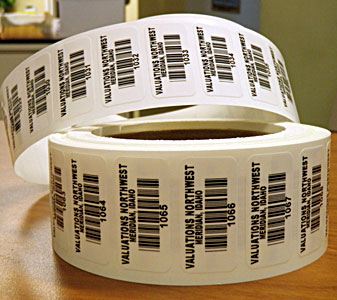 Enhance your fixed asset management with tagging of assets. This service assists in tracking of major items of value and used for accounting and insurance purposes. Appraisal reports are produced with detailed description of the tagged asset which can facilitate electronic updates. Our clients can choose their asset dollar cutoff amount, select only items that are technical, or tag items that have a high theft potential. When compiling your final report, our staff reviews and validates every asset record for accuracy.
We make your data available in any DBF format for downloading to any fixed asset program or module of your choice that accepts DBF formatting and importing.
Valuations Northwest, Inc. recommends all tags, or labels that have an integrated bar code. As an option, Radio Frequency Identification (RFID) tags are available. If you choose our bar code tagging service, future appraisal updates can be completed at a lower than original project cost.